Do you think your beloved pet has an ear issue? We are here to help…
Ear infections can be common for our furry friends, however, these are most common in dogs and less common in cats. Ear problems can be extremely uncomfortable for our pets and should be treated as soon as you see a problem.
An ear infection is unlikely to improve on its own, and leaving this disease untreated can make it harder to treat and prevent further issues down the line. If ear problems are left untreated, over time they can become very painful, hearing can be impaired or lost entirely, and in some severe cases balance can be permanently affected, which is why we are here to help.
Ear discomfort in our pets can be caused by a number of things, from common infections, mites, or something that's stuck in the ear. 
How do you spot an ear problem?
Pain when you touch your pets on the head or around the ears.
Reluctance to allow you near or to touch their ears.
Discharge coming from the ear.
Unpleasant smells coming from the ears.
Itchy ears, you may notice your pets rubbing or scratching their ears which can make them feel restless.
Shaking their heads more often.
Holding their heads to the side.
Swelling in or around the ears.
Swelling of the outer ear. This can be due to a pocket of blood called an aural haematoma and is most often caused by accident but can be a sign of an underlying issue.
Why does my pet have an ear problem?
Skin allergies.
Bacterial or yeast infections.
A build-up of dirt or wax.
Parasites, such as ear mites or harvest mites.
Foreign bodies such as grass seeds stuck in the ear canal.
Growths or tumours.
How do we diagnose ear disease in pets?
We will talk with you about your pets and how they have been.
An expert will examine your pet's ears and look for any issues.
Taking care not to cause any pain or discomfort, our vets will then look around the entrance of the ear canal for any signs of swelling, inflammation, irritation, discharge, scarring, or any other noticeable issues.

 
Using a common otoscope or our video otoscope, this is all we will need to do in most cases.
In rare cases, where the infection is harder to treat, we may take a swab sample from the ear, which we will then send off to our trusted laboratory for expert examination. Our friends at the lab will also test any bugs or mites found against a number of antibiotics so that we can make sure your loving pet is treated with the best medicine from the start.
In other cases, your pet may be referred for further tests such as CT or MRI scans. These cases are extremely rare, usually found in older dogs or when conditions have gone unnoticed. These scans may also be suggested when a growth has been suspected.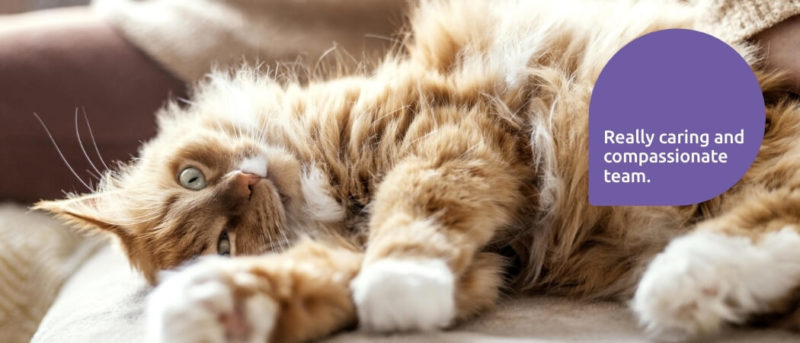 How are ear infections treated?
Treatments that we prescribe to your loving companions depend on the cause and severity of the case. In most cases, your vet may prescribe…
Anti-inflammatories or steroids to reduce pain and swelling.
Oral antibiotics that are easy to take for all pets.
Ear cleansers, in mild cases we may find that just a little wax is causing the irritation.
Medicated ear drops tailored for your pet's issues. We also have the option of administering a drop when we visit your pet, which Is very effective and lasts up to two weeks.

 

In some rare cases, surgery may be considered, where your pet's infection can't be treated medically.

 

For cats and dogs, we make sure that you are up-to-date with a suitable treatment for mites and can supply these for you should you need them.
Aural Haematomas can often be treated at home by one of our trusted veterinary nurses. However, this treatment isn't always 100% effective and may require further treatment if necessary.
If your pet has been referred and their condition needs a little more investigation, we will put them to sleep while we investigate any issues and look closer to the ear. There are several small procedures that may be highlighted at this time to help your pet make a speedy recovery.
Ears that have been severely infected or where there is noticeable scarring or narrowing within the ear, it may be recommended for a specialist member of our team to operate to remove the ear canal.

 
What can you do to prevent ear problems for your pet's?
Check your pet's ears regularly, it's good to know what's normal for your pet so you can spot changes fast and easily. Be careful though as many cats won't appreciate this!
Our fluffy friends can often have very hairy ears, and may benefit from regular trimming to help stop infections.

 

Cleaning your pet's ears regularly with a quality, trusted cleaner will help to prevent problems for our friends. We recommend Otoclean, a super-gentle cleaner that will help to dislodge and remove any wax or debris. This is especially important for breeds that have more problems with their ears. Speak to our friendly team today who will advise on how and when to clean your pet's ears.
If your pets love a dip in the water, make sure their ears are dried and clean after a swimming session.
Regular parasitic control is also a great preventative step you can take to ensure your pets are happy and healthy. Speak to our team today who will advise you on the best treatments.
How does it work
A member of our trusted, friendly team will visit your pet in the comfort of your own home to assess your pet's ears, allowing us to find the best treatment possible. Most treatments can be given at home, and without the stress of a trip to the vet – meaning your pet will be back to their best in no time.
Each one of our furry friends is different in their own way, that's why we take extra steps to ensure the right course of treatment. Talk to a member of our team today to discuss the best treatment for your pet.